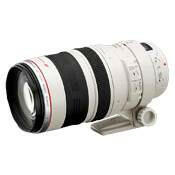 Canon 100-400mm f/4.5-5.6L EF IS USM Lens
In stock
Lenses
Canon
CN100400LISUSM
Whats in the box
Canon 100-400mm f/4.5-5.6L EF IS USM Lens
E-77 II 77mm Lens Cap
Lens Dust Cap E (Rear)
ET-83C Lens Hood
LZ1324 Lens Case
Tripod Collar
1yr Parts, 30 day Labor warranty by seller
Overview
IN STOCK & READY TO SHIP!!!
EF Mount L-Series Lens
Aperture Range: f/4.5-40
Fluorite and Super UD Elements
Two Mode Optical Image Stabilization
Ultrasonic Focus Motor
Manual Focus Override
Adjustable Zoom Ring
Detachable, Rotatable Tripod Collar
Focusing Range Limiter
77mm Filter Thread Diameter
Import Model 1 Yr Parts & 30 Day Labor Warranty via Seller
This EF 100-400mm f/4.5-5.6L IS USM Lens from Canon offers high resolution, superb contrast, neutral color balance, and Canon's original built-in Optical Image Stabilization for compensation against blur caused by camera movement.
High zoom magnification is achieved by means of a 6-group configuration with 5 movable groups. Fluorite and Super UD glass reduce secondary spectrum for superb color rendition. Autofocus is fast and silent with Canon's ring Ultrasonic Autofocus Motor (USM), and AF speed is further enhanced through an advanced, lightweight rear focusing design that incorporates a floating element for consistent image quality at all focusing distances from 5.9' to infinity.
This dual-mode image stabilizer is suitable for panning shots as well as stationary subjects. With full-time manual focus, one-touch zooming with a wide grip, a focus range limiter and a special ring that permits adjustment of zooming tension, this is a lens that's extremely easy to use, and ideal for a wide variety of applications including nature, wildlife, sports, and documentary photography.
A removable, rotatable tripod collar is included and the front filter thread diameter is 77mm.
Floating internal lens element & rear-group focusing
Fluorite & ultra-low dispersion lens elements
Two-mode optical image stabilization provides shake compensation when shooting stationary subject and when panning to follow moving subjects.
An ultrasonic autofocus motor provides fast, smooth and silent autofocus.
A focus range limiter lets you set the range of focus distance which enables shorter focusing times. The two ranges are 5.9' to infinity and 21.3' to infinity.
Removable, rotatable tripod collar
Product Specs
Focal Length & Maximum Aperture
100-400mm 1:4.5-5.6
Lens Construction
17 elements in 14 groups
Diagonal Angle of View
24° - 6° 10'
Focus Adjustment
Rear focusing system with USM
Closest Focusing Distance
1.8m/ 5.9 ft.
Zoom System
Linear extension Type
Filter Size
77mm
Max. Diameter x Length, Weight
3.6 x 7.4, 3.1 lbs. / 92mm x 189mm, 1,380g
IN STOCK & READY TO SHIP!!! EF Mount L-Series Lens Aperture Range: f/4.5-40 Fluorite and Super UD Elements Two Mode...
IN STOCK & READY TO SHIP!!! EF Mount L-Series Lens Aperture Range: f/4.5-40 Fluorite and Super UD Elements Two Mode...
Sorry, there are no products in this collection