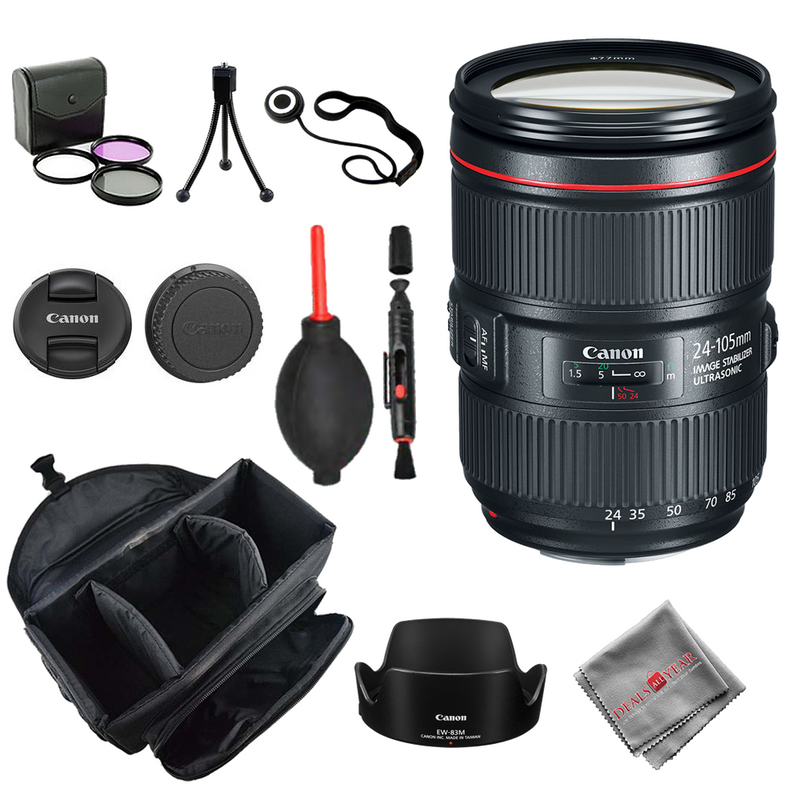 Canon EF 24-105mm f/4L IS II USM Lens + Bag Cleaner 3pc Filter Kit Table Tripod
In stock
Photo
Canon
CN241054LIS2BDL02
Whats in the box
Canon EF 24-105mm f/4L IS II USM Lens
E-77 II 77mm Lens Cap
Lens Dust Cap E (Rear)
Lens Hood EW-83M
30 Day Labor, 1yr Parts Warranty by Seller 
Also Included in the Package:
Deluxe Camera and Lens Bag
Large Rubber Air Blower Bulb Dust Cleaning Pump
3 in 1 Lens Cleaning Pen and Brush
3-PC Filter Kit
Lens Cap Keeper
Table Top Tripod
Deals All Year Cleaning Cloth
Overview
Canon EF 24-105mm f/4L IS II USM Lens
EF-Mount L-Series Lens/Full-Frame Format
Aperture Range: f/4 to 22
Four GMo Aspherical Elements
Air Sphere Coating
Ring-Type Ultrasonic Motor AF System
Optical Image Stabilization
Internal Focus; Full-Time MF Override
Zoom Lock Switch; Fluorine Coating
Dust- and Water-Resistant Construction
Rounded 10-Blade Diaphragm
Import Model 1 Yr Parts & 30 Day Labor Warranty via Seller
77mm 5 piece Filter Kit
Filter kit includes UV, circular polarizer, neutral density filters, lens cap, lens cap keeper and filter case
High-quality glass optics
Designed for digital and analog SLR cameras and video cameras
Filter thread: 77mm
Easy screw-on attachment
Blower Sensor Cleaner
Removes dust and debris from image sensor
Breaks into two parts for optimal travel size
Compact, lightweight and easily transportable
Requires no battery for operation
Ideal for cleaning DSLR cameras, lenses, binoculars and other optical equipment
SAP1 Lens Pen for DSLR Cameras
Safe for all screens, lenses and other optical components
Patented Dry Fiber Compound
Unique self-replenishing tip
Designed for SLR cameras
Bower Digital Universal Large Gadget Bag
Weather- and stain-resistant
Compact, durable and lightweight for optimal comfort and convenience
Ergonomic, stylish design
Fits one SLR with long zoom lens along with other accessories
Protects contents from falls, drops and spills
Table Top Tripod
Foldable design for ease of carrying and storing.
Tripod design to give it exceptional strength.
Non-slip rubber feet to protect your desk from scratches.
Equipped with a 5/8" male to 3/8" female metal threaded screw, fits for most standard mic clip.(Mic clip is not included.)
With a clutch to help you lock the stand, more stable.
If you could only have one lens, many photographers would pick the upgraded EF 24-105mm f/4L IS II USM Lens from Canon due to its exceptionally versatile zoom range from wide-angle to short telephoto, a constant f/4 aperture, and an outstanding build quality befitting an L-series lens. This version II of the popular lens makes improvements to image quality through the use of a new optical design with four glass-molded aspherical elements, which helps to limit vignetting in your images. Also, it uses an Air Sphere Coating to reduce ghosting and flaring. A ring-type Ultrasonic Motor AF system provides fast and accurate autofocus while built-in optical image stabilization can help compensate for about 4 stops of shutter speed, minimizing the effects of camera shake. This lens also offers a zoom lock switch to prevent lens creep when not actively in use as well as an internal focus system. Full-time manual focus override is available for making adjustments regardless of the AF mode. Additionally, it has a rounded 10-blade aperture diaphragm for smooth out of focus elements. Lens shipped in white box (Separated from a Canon 5D Mark IV camera kit box)
Canon EF 24-105mm f/4L IS II USM Lens
EF-Mount L-Series Lens/Full-Frame Format
Aperture Range: f/4 to 22
Four GMo Aspherical Elements
Air Sphere Coating
Ring-Type Ultrasonic Motor AF System
Optical Image Stabilization
Internal Focus; Full-Time MF Override
Zoom Lock Switch; Fluorine Coating
Dust- and Water-Resistant Construction
Rounded 10-Blade Diaphragm
3 piece Filter Kit
This 77mm Digital Filter Kit from Bower includes an ND4 filter, a circular polarizer filter, and a UV filter, as well as a lens cap, and a cap keeper. A carrying case is provided to keep your filters safe when not in use.
Blower Sensor Cleaner
Removes dust and debris from image sensor
Breaks into two parts for optimal travel size
Compact, lightweight and easily transportable
Requires no battery for operation
Ideal for cleaning DSLR cameras, lenses, binoculars and other optical equipment
SAP1 Lens Pen for DSLR Cameras
Safe for all screens, lenses and other optical components
Patented Dry Fiber Compound
Unique self-replenishing tip
Designed for SLR cameras
Deluxe Fiber Cloth
Bower Digital Universal Large Gadget Bag
Weather- and stain-resistant
Compact, durable and lightweight for optimal comfort and convenience
Ergonomic, stylish design
Fits one SLR with long zoom lens along with other accessories
Protects contents from falls, drops and spills
Table Top Tripod
The Neewer desktop microphone stand is ideal for home, stage, and studio audio recording. Folding stand securely positions your mic for music, podcasts, voiceovers, lectures, or sound reinforcement for kick drums and amps. 3/8" threaded mount, 5/8" adaptor; Height: 3.1"-4.9"/8cm-12.5cm; Non-slip feet; Durable construction. Stable tripod design with folding legs; Compact, lightweight, and portable.
Product Specs
Performance
Focal Length
24 - 105mm
Aperture
Maximum: f/4 Minimum: f/22
Lens Mount Type
Canon RF
Format Compatibility
35mm Film / Full-Frame Digital Sensor
Angle of View
84° - 23° 20'
Minimum Focus Distance
1.48' (45 cm)
Magnification
0.23x
Maximum Reproduction Ratio
1:4.3
Optical Design
17/12
Diaphragm Blades
10, Rounded
Features
Image Stabilization
Yes
Auto Focus
Yes
Physical
Filter Thread
77 mm (Front)
Dimensions (DxL)
Approx. 3.29 x 4.65" (83.5 x 118 mm)
Weight
28.04 oz (795 g)
Canon EF 24-105mm f/4L IS II USM Lens EF-Mount L-Series Lens/Full-Frame Format Aperture Range: f/4 to 22 Four GMo Aspherical...
Canon EF 24-105mm f/4L IS II USM Lens EF-Mount L-Series Lens/Full-Frame Format Aperture Range: f/4 to 22 Four GMo Aspherical...
Sorry, there are no products in this collection
7464989950183

BRAND NEW