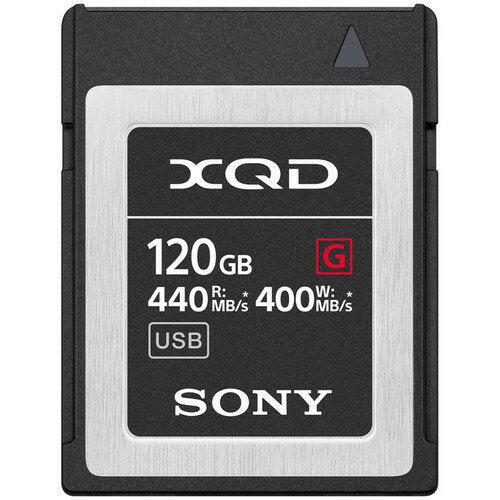 Sony 120GB G Series XQD Memory Card
In stock
Accessories
Sony
SN120GBXQDGF
Whats in the box
Sony 120GB G Series XQD Memory Card
30 Day Labor, 1Yr Parts Warranty by Seller
Overview
BRAND NEW IN STOCK & READY TO SHIP!!!
120GB Storage Capacity
PCIe 2.0 Interface
Max. Read Speed: 440 MB/s
Max. Write Speed: 400 MB/s
Record 4K Video & Raw Photo Bursts
Durable Shell Structure
Shock / X-Ray Proof
Can Withstand Extreme Temperatures
Resistant to UV Light, Static, and Drops
Downloadable File Rescue Software
Import Model, 30 Day Labor 1Yr Parts Warranty by Seller
Designed for professional photographers and videographers, the 120GB G Series XQD Memory Card from Sony is made to excel in high-end DSLRs, including models from Nikon and Sony, and offers a storage capacity of up to 120GB. Equipped with a PCIe 2.0 interface, this XQD card features read speeds of up to 440 MB/s and write speeds of up to 400 MB/s, allowing it to record 4K video and up to 200 continuous raw still image bursts.
As with most Sony cards, this memory card is shockproof, X-ray proof, and magnet proof, while also being able to withstand temperatures from -13 to 149°F, allowing you to take this card with you into extreme environments, such as snow and deserts. It is also resistant to intense UV light exposures, can resist damage from drops up to 16.4', and up to 50 N of force. Should the card's data become compromised, you also benefit from the option to download File Rescue software for free to help recover deleted content, including raw images, MOV files, and 4K XAVC-S video.
General Features
Dependable 4K Video Recording
Sony's unique data controller works to ensure stable 4K video recording, with two-way communication to manage data bottlenecks on compatible cameras.
Burst Shooting
With its fast write speed, Sony XQD G Series memory cards are well-suited for continuous raw burst shooting with DSLR cameras. Capture up to 200 raw images in a single burst.
Capture More Decisive Moments
Sony XQD G series memory cards are designed to keep pace with the shooting speed of your camera and clear the memory buffer fast. You can capture more decisive moments and bursts of continuous shots, even with high-end DSLRs.
Robust Shell Structure
Sony's technologies increase shell strength to improve durability. Recessed contact pins also help protect them from damage, dust, and electrostatic shock for reliable performance, even in harsh environments.
Strength
Designed for professional use, this card offers improved strength over standard XQD cards. The additional rigidity is tested to 50 N of force, helping to prevent the risk of flexing and bending caused during transport and by repeated insertion into card slots.
Durability During Intense Use
Up to 5x more durable compared to standard XQD cards, Sony's G Series cards are tested to withstand drops of 16.4' / 5.0m, giving users confidence when handling or swapping cards, even under busy, hasty, or dark shooting circumstances.
Fast Data Transfers
Sony's XQD/SD card reader and USB adapters are a good match for G Series XQD memory cards. With transfers faster than CompactFlash cards, your data backups and work flow are more efficient.
Designed for Professionals
Sony's XQD memory cards are shockproof, magnet proof, anti-static, and resistant to breakage. They also offer fast performance, even in extreme temperatures, under exposure to intense UV light, and airport x-ray machines. Designed for prolonged professional use, Sony XQD cards are tested for dependable storage in a vast array of environments.
File Rescue Software
Sometimes things go wrong and data, such as photos and files, get damaged or lost. Sony's File Rescue is a powerful tool for recovering damaged or lost data that is simple enough for almost anyone to use. Applying an advanced algorithm, Sony's File Rescue realizes a higher rate of recovery for raw images, MOV files, and 4K XAVC-S video files captured on both Sony and Nikon devices. Sony's File Rescue is available as a free download to memory card customers.
Product Specs
Quantity

1

Card Type

XQD

Storage Capacity

120 GB

Bus Type

PCI-Express 2.0

Data Transfer
Read Speed: 440 MB/s Maximum (Burst)
Write Speed: 400 MB/s Maximum (Burst)
Durability

Magnet-Proof, Shockproof, Static Proof, Temperature Extremes, UV Light Resistant, X-Ray Proof

Operating Temperature

-13 to 149°F/ -25 to 65°C

Wireless Capability
None
Packaging Info
| | |
| --- | --- |
| Package Weight | 0.13 lb |
| Box Dimensions (LxWxH) | 5 x 3.95 x 0.65" |
BRAND NEW IN STOCK & READY TO SHIP!!! 120GB Storage Capacity PCIe 2.0 Interface Max. Read Speed: 440 MB/s Max....
BRAND NEW IN STOCK & READY TO SHIP!!! 120GB Storage Capacity PCIe 2.0 Interface Max. Read Speed: 440 MB/s Max....
Sorry, there are no products in this collection